Jim Shore Event 12 november 2021

Beste klant,
Dit jaar zal Jim Shore helaas niet naar Europa komen door de nog steeds bestaande Corona risico's. In plaats van een echt fysiek bezoek is er gekozen voor diverse live-sessies in verschillende winkels in Europa. We zijn verheugd dat ook bij ons Jim een live sessie gaat uitvoeren. Op vrijdag 12 november zal Jim in de middag een liveverbinding hebben met ons en kan een groot aantal van jullie een op een een paar minuten met hem praten. Superspannend maar ook heel leuk, leerzaam en historisch natuurlijk. Gewoon even een op een kletsen met je held, dat is toch geweldig. Speciaal voor deze dag komt er een zeer kleine hoeveelheid eventbeelden.
Het Jim Shore Online Event 2021 beeld is geworden: Beauty & The Beast Storybook White Woodland handgesigneerd door Jim Shore zelf in Amerika bij hem thuis.
We hebben er lang over nagedacht hoe we jullie op een eerlijke manier als verzamelaar een kans kunnen geven om dit beeld te bemachtigen en ook met Jim live in gesprek te gaan op 12 november in onze winkel . Dit is een uniek en belangrijk moment voor ons, voor Jim en voor jullie en we willen gelijke kansen geven aan iedereen.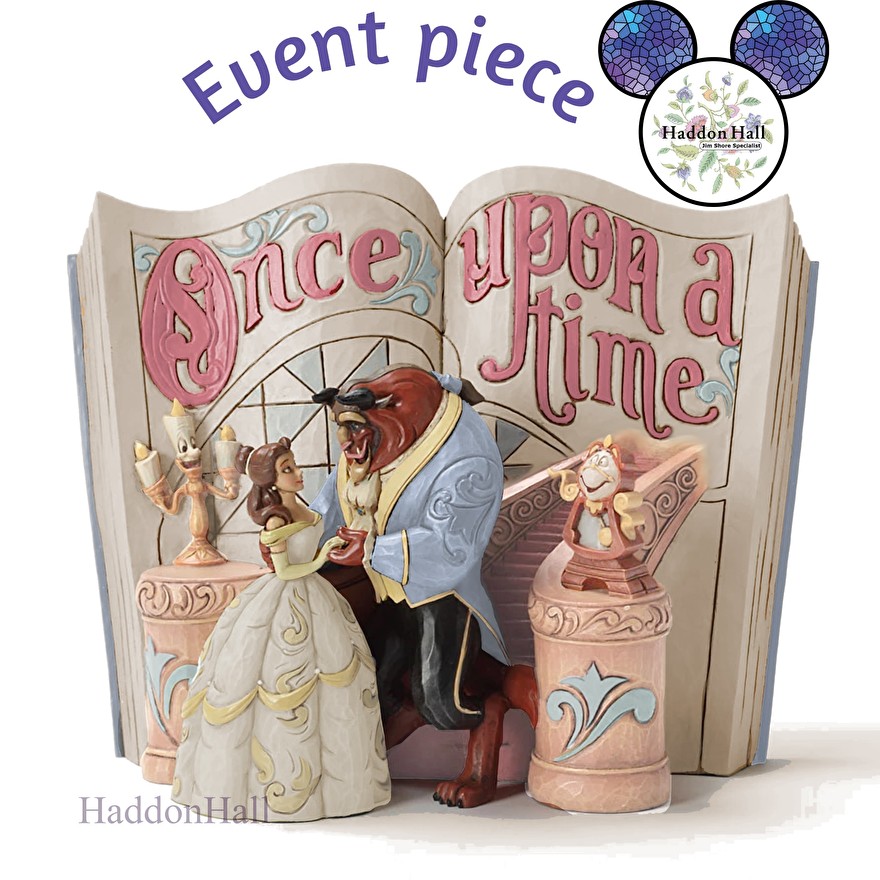 Je kunt een kans maken om dit prachtige beeld te bemachtigen en een plek om met Jim live te praten als volgt:
Je kunt een preorder maken van het beeld online of in de winkel.
Op de overige opmerkingen van het bestelproces vertel je wat je vindt van het beeld en waarom je graag met Jim in gesprek wilt.
We maken daarna een trekking om de winnaars te kiezen voor het gesprek en een volgorde te geven aan het Online Event (Bijv, eerste lot met nummer 1 wordt eerste plek om met Jim te praten)
Let op!
Het gesigneerde beeld kan alleen worden opgehaald op de dag van het event en wordt dus niet verstuurd.
Er kan maximaal 1 beeld besteld worden per huishouden en/of adres.
Doe AUB alleen dit beeld in het winkelwagen, er geldt geen vasteklantekorting of zomeractie op dit beeld. Gecombineerde orders worden helaas geannuleerd en terugbetaald.
We zullen het beeld vooraf controleren op breuk en apart voor jou zetten maar het is niet mogelijk op de dag van het event om het beeld uit te kiezen zoals de normale beelden in onze winkel.
Er is een beperkt aantal exemplaren beschikbaar voor dit evenement; wees er snel bij. Op is op!
Indien je 12 november niet kunt komen wordt de order geannuleerd en terugbetaald en krijgt iemand anders de kans om dit zeldzame beeld te bemachtigen en in gesprek te gaan met Jim.
Alleen betaalde orders worden in behandeling genomen.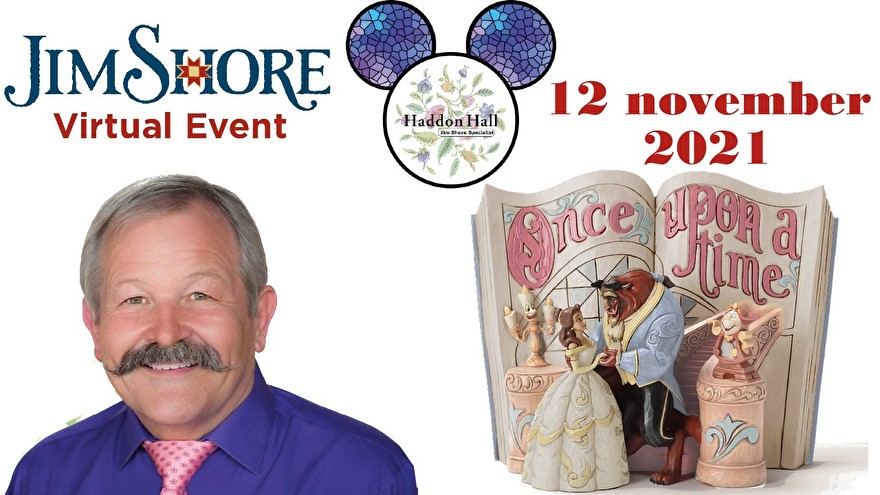 This year Jim is not visiting Europe unfortunately because of Covid reasons. We are proud to announce that instead of meeting him physically you will be able to meet him and talk to him online. On November 12 we will have a life streaming with Jim and you can talk to him for several minutes. Specially for this event there will be a eventfigurine available in very small quantities.
The Jim Shore Online Event Piece 2021 has been chosen: Beauty & The Beast Storybook White Woodland handsigned by Jim in his house in America.
We took time to think about what was the fairest way to give the collectors a chance to get this beautiful piece en also to get to talk Live with Jim in our shop on November 12. This is a unique and very important moment for you, for us and for Jim and we want to give a chance to as many people as possible.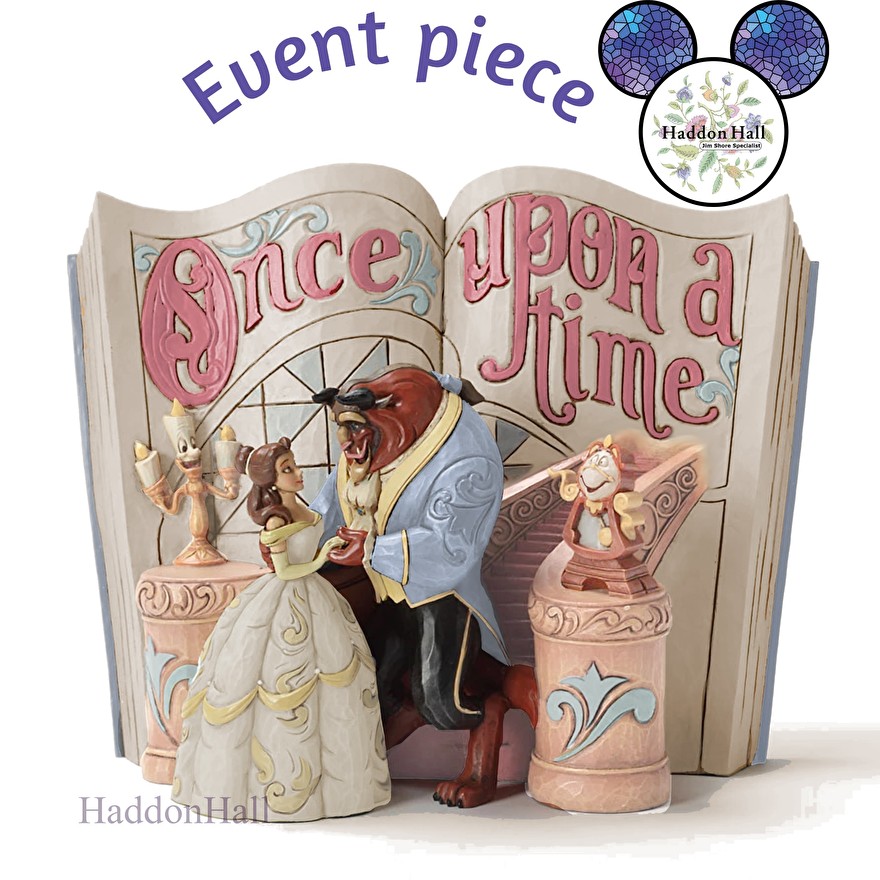 You can get this beautiful piece and also a chance to speak with Jim on this way:
You can make a preorder in our webshop.
On the "Special comments" of the order process you must write what you like about the figurine and why you want to speak with Jim.
We will draw then later the winners and we will give to the winners also a number and this will be attached to the order of the Online Event (For example the number one drawed will be the order number one to talk with Jim)
Important to know!
The figurine is only to pick up in our shop on the day of the event.
There is only one piece available for every family and/or adress.
Please make the order only for this piece and because of the extra shipping costs to other countries choose the adres of our shop (free shipping in The Netherlands)
We will check the figurine for damages but it is not possible to compare differents firugines on the day of the event in our store.
There is a limited amount of figurines available for the people who attend the event, don't hesitate too long.
If you can not attend the event on the 12th of November,the order will be canceled and we will refund you the money. The figurine will be available for somebody else on that day.
Only paid orders will be processed.